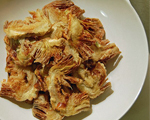 Prep: 1 hr
Cook Time: 15 min
Total: 1 hr 15 min
Serving: 4 Servings
These delectable pieces of artichoke, fried in a light batter, just melt in your mouth. Serve as an appetizer or a side to a sandwich or burger instead of fries.
Ingredients
6 firm and heavy artichokes
Juice of 1/2 a lemon
1-1/2 teaspoons flour
1 egg, lightly beaten
Flour for dredging
Olive oil or vegetable oil for frying
Sea salt
Directions
Pour the lemon juice into a large bowl and add the rind, a sprinkle of salt and the 1-1/2 teaspoons flour. Set aside.
Peel and trim the artichokes by removing the outer leaves and then trimming the tops perpendicularly. Cut the artichokes into eight pieces and then place in the bowl with the lemon juice to soak for 1 hour.
Remove the artichokes, rinse and pat dry with a clean towel.
In a shallow bowl place the beaten egg, and in another shallow bowl some flour for dredging.
Fill a large frying pan about 1-1/2 inches full with olive oil and heat on medium-high.
Dredge each artichoke piece in the egg and then in the flour and drop into the frying pan. Fry until crisp and golden brown.
Remove from pan and sprinkle with sea salt. Serve immediately while hot.