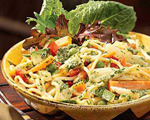 Prep: 15 min
Cook Time: 15 min
Total: 30 min
Serving: Serves 3 as a main dish
A cornucopia of fresh vegetables is tossed with linguine pasta to create this hearty and delicious vegetarian salad.
Photo originally appeared on kitchendaily.com
Ingredients
1/4 cup loosely packed fresh parsley sprigs
2 tablespoons olive oil
2 tablespoons wine vinegar
2 tablespoons water
1 to 2 cloves garlic
1/2 teaspoon dry mustard
1/4 teaspoon salt
1/4 teaspoon ground black pepper
4 ounces fresh linguine, cut into 4-inch pieces, or 2 ounces dry linguine, broken
1 large carrot, cut into julienne strips
1 small turnip, cut into julienne strips
1 small zucchini, cut into julienne strips
1/2 cup chopped red sweet pepper
1/2 cup loose-pack frozen peas, thawed
3 ounces mozzarella
Directions
Cook the linguine according to package directions making sure to add the carrot and the turnip to the pot during the last 4 minutes of cooking. Drain the mixture well, rinse with cold water and then drain once again. Transfer the pasta mixture to a large bowl.
Place the parsley sprigs, salad oil, wine vinegar, water, garlic cloves, dry mustard, salt and pepper into a blender and process until smooth.
Add the prepared dressing, zucchini, pepper, peas, and mozzarella to the bowl with the pasta mixture and then gently toss to coat. Season the salad with additional salt and pepper to taste and then serve.