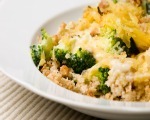 Prep: 20 min
Cook Time: 40 min
Total: 1 hr
Serving: Serves 6 people
It's easy to get your fill of vegetables with Fresh Veggie Casserole. This dish is easy to make for the family and tastes great as leftovers, too!
Ingredients
4 eggs
1/2 cup milk
1 cup all-purpose or unbleached flour
1-1/2 tablespoons baking powder
1/2 teaspoon salt
1/2 teaspoon dry mustard
1/4 teaspoon dried thyme leaves
1/4 teaspoon pepper
2 cups coarsely chopped broccoli, cooked until crisp-tender
2 cups shredded carrots
1/3 cup finely chopped red bell pepper
1/3 cup chopped onion
1 cup shredded cheddar cheese
1 cup shredded mozzarella cheese
Non-stick cooking spray
Directions
Preheat oven to 350 degrees F. Spray an 8-inch square baking dish with non-stick cooking spray.
Use a large bowl and beat eggs until foamy. Add the milk and beat in the dry ingredients. Fold in the vegetables and the cheese. Spoon into the baking dish and bake for 35-40 minutes or until set.