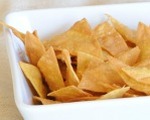 Prep: 1 hr
Cook Time: 10 min
Total: 1 hr 10 min
Serving: 8 People
They key to a deliciously fresh tortilla chip, like one you'd find in an authentic Mexican restaurant, is to use fresh, handmade tortillas. Like many other recipes, the fresher the ingredients, the better tasting the outcome of the dish. If you can, make your own tortillas at home and then bake them for the ultimate chip. If you don't have the time or the ingredients, go to a speciality store to purchase freshly made tortillas. Paired with chunky guacamole, these are the ultimate tortilla chip!
Ingredients
3 cups flour
2 teaspoons baking powder
1 teaspoon sea salt
3/4 cup shortening (or butter)
3/4 cup boiling water
1 tablespoon extra virgin olive oil
1 teaspoon sea salt (additional)
Directions
Mix flour, baking powder and salt together in a large bowl. Using a pastry cutter, cut in the shortening to create a crumbly batter. If the batter is floury, add more shortening until it crumbles. Add water to moisten the batter.
Knead dough for at least five minutes. Place in a bowl, cover with a damp towel and let sit for at least an hour to rest.
Make ten to 12 balls with the dough. On a heavily flour surface, roll each ball until you have a large circle.
Grease a large nonstick skillet with a bit of cooking spray. Place each tortilla, one at a time, onto the skillet and cook for about two minutes on each side, or until slightly browned. Once all tortillas have been made, remove from heat and let sit for an hour.
Cut each tortilla into triangles to form chips. Preheat oven to 350 degrees F. Mist chips with olive oil. Sprinkle with sea salt and bake for about eight minutes, or until crispy.