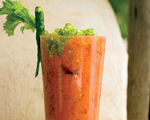 Prep: 10 min
Cook Time: –
Total: 10 min
Serving: 8 servings
You know this drink is going to be an intensely-flavored and refreshing treat considering the majority of its ingredients are fresh and can be obtained from your local farmers' market. Enjoy it spiked with chilled vodka or as a non-alcoholic beverage.
Ingredients
2 small celery ribs, minced
2 tablespoons minced onion
1 medium green heirloom tomato, minced
1/2 teaspoon finely grated lemon zest
1 teaspoon fresh lemon juice
Salt
1-1/2 pounds chilled red tomatoes, coarsely chopped
1/2 cup chilled vodka
1 cup ice cubes
1 teaspoon tomato paste
1/2 small red chile, seeded and coarsely chopped
1/2 teaspoon celery salt
4 drops of Worcestershire sauce
4 medium celery ribs and 4 thin green chiles to garnish
Directions
Place the celery, onion, tomato, lemon zest and juice into a bowl, sprinkle with a few pinches of salt and toss to combine.
Put the tomatoes, vodka, ice, tomato paste, chile, celery salt and Worcestershire sauce in a blender and puree the mixture until smooth. Transfer the mixture into glasses and then top each glass with the celery mixture. Garnish the cocktails with the celery ribs and the chiles and serve immediately.