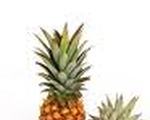 Prep: 10 min
Cook Time: –
Total: 10 min
Serving: 4
Fresh Stuffed Tortilla Cups are filled with chicken, lettuce and a variety of fruit.
Ingredients
1, 10 ounce bag of romaine hearts
6 flour tortillas
1 cup fresh cut pineapple chunks
1 medium grapefruit, peeled and sectioned
1 tangerine, peeled and sectioned
1 avocado, peeled and chopped
1 cooked boneless chicken breast, shredded
1 1/2 tablespoons lime juice
1 tablespoon honey
1/4 cup orange juice
1 1/2 teaspoon fresh cilantro, minced
1 1/2 teaspoons fresh mint, minced
Directions
To make cups: Brush each side of the tortilla very lightly with water and push down into a small greased bowl or large custard cup. Bake at 400 degrees F for 10 minutes. Allow to cool before removing from the bowl.
In a medium bowl, combine the pineapple, grapefruit, tangerine, avocado and chicken breast together. Toss with the orange juice, lime juice, honey, cilantro and mint.
Place desired amount of romaine in the bottom of the tortilla cup. Scoop the citrus salad on top of the lettuce and serve immediately.