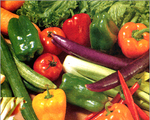 Prep: 15 min
Cook Time: 10 min
Total: 25 min
Serving: 6
A bounty of veggies in Fresh Stir Fry Melange.
Ingredients
3 1/2 cups fresh green pepper strips
3 1/2 cups fresh red pepper strips
2 1/2 cups mushrooms, sliced
1 cup celery, sliced
2 tablespoons onion, chopped
1/2 clove garlic, crushed
1/2 teaspoon sugar
1/4 teaspoon dried leaf oregano
3/4 teaspoon salt
dash of pepper
1/4 cup olive oil
1 teaspoon wine vinegar
2 tomatoes, cut in wedges
Directions
Stir fry the first 10 ingredients in hot oil in skillet over medium-high heat until peppers are tender-crisp. Add vinegar and tomatoes. Cook until heated through.