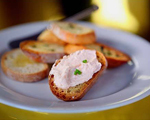 Prep: 12 hr
Cook Time: 14 min
Total: 12 hr 14 min
Serving: Makes 4-6 servings
The ultimate in luxurious hors d'oeuvres, serve this pate with thin slices of warm toast and Gewürztraminer wine.
Ingredients
4 ounces skinless salmon fillets, cut into bite-sized pieces
1/2 cup dry white wine
1 tablespoon olive oil
2 tablespoons brandy or Cognac
Sea salt and freshly ground pepper to taste
3 tablespoons unsalted butter
4 ounces smoked salmon
3 tablespoon unsalted butter
Directions
In a small saucepan, add the fresh salmon fillets and the wine. Bring the mixture to a boil over medium-high heat and then remove from the heat and drain.
In another small saucepan, heat the oil over medium-high heat and add the salmon, stirring frequently, for 5 minutes. Remove from heat and then pour in the brandy and sprinkle with some salt and pepper.
In a third saucepan, add the 3 tablespoons of butter and melt over medium heat. Drop in the smoked salmon and sauté for 4 minutes. Set aside and allow to cool.
In a food processor, process the smoked salmon with the additional 3 tablespoons of butter until smooth. Transfer into a serving bowl and add the fresh salmon and a pinch of salt and pepper, mixing to combine.
Cover the pate and refrigerate for at least 12 hours. Before serving, remove pate from refrigerator 20 minutes ahead.