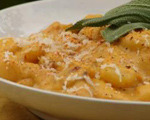 Prep: 10 min
Cook Time: 10 min
Total: 20 min
Serving: 4 Servings
Toss this fresh sage and pumpkin sauce with your favorite pasta, top on your favorite rice bowl or spoon onto grilled poultry or meat for a fragrant and creamy addition of flavor.
Ingredients
2 tablespoons butter
1 medium shallot, minced
4 cloves garlic, minced
6 fresh whole sage leaves
1/4 cup white wine or apple cider
1 cup pure pumpkin puree (no added seasonings)
1 cup vegetable broth
1/2 cup heavy whipping cream
Nutmeg to taste
Salt and freshly ground black pepper
1/4 cup freshly grated Parmesan cheese
Directions
Place the butter in a large sauté pan over medium heat. Once frothy, add the shallot, stir to coat in the butter and sauté for 3 minutes. Add the garlic and sage leaves to the pan and cook the mixture for 1 minute before pouring in the wine and cooking until the liquid has almost evaporated.
Stir in the vegetable broth and bring the mixture to a simmer. Cook for 3 minutes and then remove and discard the sage leaves. Slowly add the pumpkin puree, whisking well to combine, and then add the cream and the Parmesan cheese. Serve immediately.