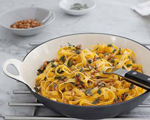 Prep: 12 min
Cook Time: –
Total: 12 min
Serving: 4 Servings
This under 30 minute meal has a rich blend of flavors that create a satisfying and original pasta dish. Feel free to substitute the fettuccini for the pasta of your choice.
Ingredients
8 ounces fresh fettuccine
3 tablespoons unsalted butter
2 tablespoons roughly chopped fresh sage leaves
2 tablespoons toasted pine nuts
Salt and freshly ground black pepper
Directions
Cook the pasta 'al dente' according to package directions, making sure to reserve 2 tablespoons of the cooking liquid prior to draining.
Place the butter into a large sauté pan over medium heat and add the sage once the butter begins to brown. Cook the mixture for 30 seconds and then stir in the pine nuts and cook for another 30 seconds.
Add the fettuccini to the pan, along with the reserved pasta liquid, and toss the mixture to coat using a pair tongs.
Season the pasta with a few sprinkles of salt and fresh pepper and serve immediately.