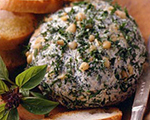 Prep: 3 hr 25 min
Cook Time: 4 min
Total: 3 hr 29 min
Serving: Makes about 1-1/2 cups
This delicious cold appetizer made with Italian-inspired flavors is ideal when served with crackers or thin slices of French baguette.
Ingredients
3-1/2 cups fresh parsley sprigs, trimmed
1 cup loosely packed fresh basil leaves, trimmed
4 ounces (1 cup) Provolone cheese, shredded
1/2 cup pine nuts, toasted, chopped
1 (8-ounce) package cream cheese, softened
1 1/2 teaspoons finely chopped fresh garlic
Dash ground red pepper
Directions
Fill a large saucepan 3/4 full with water and bring to a boil.
Once boiling add 3 cups of the parsley, let boil for 30 seconds, and then remove immediately. Rinse the parsley under cold water, drain and squeeze out any excess liquid.
Place the parsley and the fresh basil on a cutting board and chop into pieces, then place in a large bowl with the provolone cheese, pine nuts, cream cheese, garlic and red pepper.
Beat the parsley mixture at medium speed until blended, scraping the sides of the bowl if necessary.
Shape the mixture into a ball, cover and refrigerate for 3 hours.
Chop the remaining 1/2-cup parsley. Roll the cheese ball in the parsley, place on a serving dish and serve.