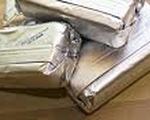 Prep: 25 min
Cook Time: 15 min
Total: 40 min
Serving: 6
Imagine a slice of Fresh Peach Cheesecake on a warm, summer's day!
Ingredients
1 pound fresh peaches, peeled and chopped fine
1/2 cup sugar
2 teaspoons fresh lemon juice
1 envelope unflavored gelatin
12 ounces cream cheese, softened
3/4 cup sour cream
1 teaspoon vanilla
1 graham cracker pie shell
sliced fresh peaches for garnish
Directions
Mix chopped peaches, sugar and lemon juice. Cover and refrigerate for 20 minutes.
Drain liquid from peaches (about 1/2 cup liquid). Soften gelatin in peach liquide; dissolve over hot water in a double boiler. Mix dissolved gelatin with peaches. Cool, stirring occasionally, until slightly thickened.
Beat cream cheese until light. Stir in sour cream and vanilla. Fold chopped peaches into cheese mixture. Turn into pie shell and refrigerate until firm. To serve, garnish with sliced peaches.