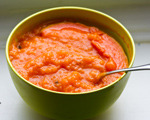 Prep: 5 min
Cook Time: 5 min
Total: 10 min
Serving:
Spoon this slightly sweet and spicy fresh papaya sauce over pies, ice creams and cakes. Not only is it delicious but its intense red-orange color makes a beautiful garnish.
Ingredients
3 cups fresh papaya, seeds removed (about 1 medium red papaya)
1/2 teaspoon salt
1 cup fresh orange juice
4 tablespoons water
dash cayenne
Directions
Place the papaya into a blender and process until smooth.
Transfer the papaya puree to a saucepan, and then add the orange juice, salt and cayenne. Mix well to combine and then bring the mixture to a boil, stirring constantly to prevent sticking. Boil the mixture for 2 minutes and then remove from the heat.
Set the mixture aside for a few minutes to cool and then enjoy warm or chilled.