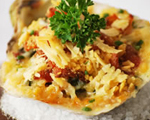 Prep: 30 min
Cook Time: 12 min
Total: 42 min
Serving: 12 Oysters
This gorgeous appetizer is ideal for a ritzy and glamorous New Year's dinner party. Serve the fresh oysters with chilled vodka shots.
Ingredients
Vegetable oil
12 Oysters, whole
6 Bacon, slices, halved
18 ounces of Parmesan creamed spinach
1 cup Flour
2 tablespoons Creole seasoning
Directions
Preheat oven to 375 degrees.
Fill a large frying pan halfway full with oil and heat until reaching 350 degrees.
Shuck all the oysters into a bowl and set shells aside. Wrap each oyster with a piece of bacon and secure tightly with a toothpick, set aside.
Fill each of the oyster shells with the creamed spinach and then place in a baking dish. Put in the oven and cook for 10 minutes.
Meanwhile, mix the flour and 1-1/2 tablespoons Creole seasoning in a small bowl and lightly dredge the oysters, shaking off any extra flour. Deep fry the oysters for about 1 minute until golden and then set on paper towels to drain.
Put the fried oysters on the baked shells, sprinkle with the remaining seasoning and serve.