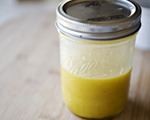 Prep: 10 min
Cook Time: 6 min
Total: 16 min
Serving: 4 Servings
Superb on grain-based salads, this zesty and citrusy vinaigrette is made with fresh orange and lemon juice, chopped almonds, garlic, cayenne pepper and balsamic vinegar.
Ingredients
1/2 cup olive oil
2 tablespoons chopped almonds
2 cloves garlic, chopped
1 cayenne pepper, finely chopped
2 tablespoons balsamic vinegar
Juice of 1 lemon
Juice of 1 orange
3 tablespoons sliced shallots
1 tablespoon finely chopped mint
Directions
Place 1/2 tablespoon of olive oil into a sauté pan over medium heat. Once it begins to shimmer, add the almonds, garlic, shallots, and chilies and sauté the mixture until golden brown. Stir in the balsamic vinegar, simmer for 3 minutes, and then add the remaining olive oil, lemon and orange juice; bring the mixture to a boil. Stir in the mint and then remove the pan from the heat and set aside for 3 minutes.