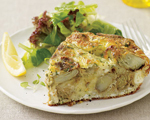 Prep: 10 min
Cook Time: 48 min
Total: 58 min
Serving: 4 Servings
So simple, yet so delicious, this frittata combines tender artichoke hearts with fresh onions and cheese. Use a mix of Fontina or Gouda cheese with the Parmesan.
Ingredients
1 can artichoke hearts, quartered
4 green onions, chopped
10 eggs
1/2 cup heavy cream
1/4 cup basil
1/2 fontina cheese
1/4 Parmesan cheese plus 3 tablespoons
Directions
Preheat the oven to 350 degrees and butter an oven-safe pie dish.
In a large bowl, whisk together the artichoke hearts, onions, cream, basil, Fontina and 1/4 cup Parmesan cheese. Empty the mixture into the prepared pie dish and cook for 45 minutes.
Remove from oven and sprinkle with the extra 3 tablespoons of Parmesan on the top. Put Fritatta under the broiler and cook until cheese is melted and golden brown.