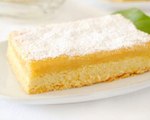 Prep: 25 min
Cook Time: 50 min
Total: 1 hr 15 min
Serving: Makes 36-40 servings
The fresh lemon juice and grated lemon rind used in these creamy dessert squares really makes their flavor 'pop!' Serve at a luncheon with a cup of steaming black tea.
Ingredients
For crust:
2 cups flour
1/2 cup powdered sugar
2 sticks butter, melted
For filling:
4 eggs
4 tablespoons flour
2 cups sugar
pinch of salt
4 tablespoons fresh lemon juice
1/2 teaspoon grated lemon rind
Powdered sugar to garnish
Directions
Preheat oven to 350 degrees. Grease sides of a 13x9-inch pan with butter or cooking spray.
For the crust: In a large bowl, cream together the flour, powdered sugar and butter.
Spread the dough in the pan, working it slowly up the sides so it will hold the filling.
Put in oven and bake for 20 minutes, until crust is golden brown.
For the filling: In a large bowl, beat the eggs with a handheld mixer. Add the sugar and the salt and continue to beat. Mix in the lemon juice, the rind and the flour and mix well.
Pour the filling into the baked crust and put back in oven for 30 minutes.
Remove from oven and sift powdered sugar over dessert. Allow to thoroughly cool before cutting into squares.