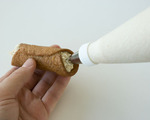 Prep: 2 hr 20 min
Cook Time: –
Total: 2 hr 20 min
Serving: Makes 12 Cannoli
These lovely and elegant cannoli are filled with a bright and creamy, fresh lemon and ricotta cheese filling. For an added touch of sweetness, use fresh Meyer lemons for the juice and zest.
Ingredients
2 cups ricotta cheese
1/4 cup granulated sugar
1tablespoon fresh lemon juice
1 teaspoon pure vanilla extract
2 tablespoons finely grated lemon zest
12 purchased regular or chocolate cannoli cones
Powdered sugar to garish
Directions
Place the ricotta cheese, granulated sugar, lemon juice and vanilla into a bowl, and then beat the mixture until thoroughly blended and smooth in texture. Add the finely grated zest, stir to combine and then place in the refrigerator, covered, for 1 hour to chill.
Transfer the chilled filling to a pastry bag fitted with a large tip, and then pipe the ricotta mixture into the cannoli cones. Place onto a serving platter and then chill the filled cannoli in the refrigerator for 1 hour prior to serving with a dusting of powdered sugar.