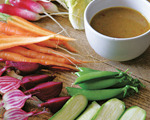 Prep: 5 min
Cook Time: –
Total: 5 min
Serving: Dressing for 1 Salad
Freshly squeezed lemon juice and finely chopped anchovies create a zesty and sharp dressing with a pleasant bite of flavor.
Photo originally appeared on www.channel4.com
Ingredients
2 ounces firm, aged goat cheese, grated
1 clove of garlic, minced
2 salted anchovies, rinsed, filleted and finely chopped
Salt and freshly ground pepper to taste
Freshly squeezed juice of 1 medium lemon
1/2 cup extra virgin olive oil
Directions
Place the cheese, garlic, anchovies, lemon juice and a few pinches of salt and pepper into a bowl and whisk well to combine. Slowly pour in the oil and continue to whisk until blended. Serve immediately.