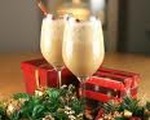 Prep: 4 hr 15 min
Cook Time: 10 min
Total: 4 hr 25 min
Serving: 24
Start the holiday season with a punch bowl filled with Fresh Holiday Eggnog.
Ingredients
1 dozen eggs, separated
1-1/2 cups sugar
4 cups milk
1 cup whipping cream, whipped
1/4 cup brandy
1/4 cup light rum
1/2 teaspoon vanilla extract
1/2 teaspoon ground nutmeg
Directions
Beat egg yolks in a bowl until smooth. Combine egg yolks and sugar in top of a double boiler over hot water. Stir in milk gradually. Cook, stirring constantly, until mixture coats spoon. Remove from heat. Refrigerate until chilled.
Beat egg whites until stiff peaks form. Fold egg whites and whipped cream into chilled egg yolk mixture. Stir in brandy and rum. Chill for several hours to blend flavors.
Stir in vanilla just before serving; sprinkle with nutmeg.