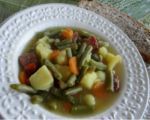 Prep: 15 min
Cook Time: 30 min
Total: 45 min
Serving: Serves 4-6 people
Great on a cold night in, Fresh Green Bean Stew is hearty and tasty. Serve with artisan bread and a cheese tray for a great meal.
Ingredients
6 cups young green beans (be sure they are stringless)
3 tablespoons extra-virgin olive oil
3 onions, finely diced
12 ounces fresh plum tomatoes, roughly chopped
1 teaspoon paprika (add a bit for garnish)
6 garlic cloves, crushed
2 tablespoons fresh parsley, chopped (reserve a bit for garnish)
Salt and pepper to taste
Directions
Trim the bean and cut them into 1-1/2-inches in length. Bring a pot of water to boil. Add the beans to the boiling water. Allow to boil for a minute then reduce the heat to simmer. Cook until soft (about 5 minutes), drain and set aside but keep them warm.
In a large saute pan over high heat, add the olive oil, then the onions, stirring constantly. Cook until they turn a light golden color. Add the tomatoes and paprika to the onions and mix well.
Stir the green beans into the onion mix and simmer with the lid on for about 12-15 minutes. Stir in the garlic and parsley. Season with salt and pepper. Garnish individual bowls with the reserved parsley and a bit of the paprika.