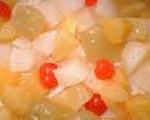 Prep: 18 hr 25 min
Cook Time: 10 min
Total: 18 hr 35 min
Serving: 4
Fresh Fruit Sherbet can be made with blueberries, honeydew, pineapple or strawberries.
Ingredients
1 envelope unflavored gelatin
1/2 cup milk
3 cups canteloupe, cubed
1 cup light corn syrup
Directions
In a small saucepan, sprinkle gelatin over milk. Stir over low heat until dissolved. Place in blender or food processor with fruit and corn syrup. Blend at high speed for 30 seconds.
Pour into a 8 by 8 inch square baking pan. Cover and freeze overnight.
Soften slightly at room temperature for about 15 minutes. Spoon into a large bowl. Mix at low speed until smooth but not melted. Pour into a 4 cup mold or freezer container. Cover and freeze 4 hours or until firm.
Unmold or soften at room temperature for easier scooping.