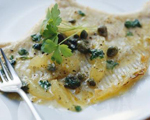 Prep: –
Cook Time: 15 min
Total: 15 min
Serving: Serves 2
This extremely light dish of sautéed flounder fillets is bursting with fresh lemon flavor. Pair the meal with a side of brown rice and a glass of Sauvignon Blanc.
Ingredients
2 (4-ounce) flounder fillets
1/4 teaspoon salt
1/8 teaspoon freshly ground pepper
2 tablespoons unsalted butter
1 tablespoon olive oil
1 tablespoon lemon juice
2 teaspoons chopped parsley
1/2 teaspoon whole capers
1 small lemon, peeled and segmented
Directions
With a sharp knife, make 2 crosswise slits in the flounder and season well with salt and pepper.
In a large sauté pan, melt 1/2 tablespoon of butter and sauté flounder for about 3 minutes over medium-high heat. Fish will turn a golden brown color.
Flip the fish once and cook for an additional 2 minutes. Place the fish on a serving dish and cover to keep warm.
Add the remaining 1-1/2 tablespoons butter to the hot and pan and then the lemon juice, parsley, capers, and lemon segments. Mix well and then spoon sauce over the fillets. Serve immediately.