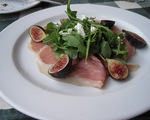 Prep: 20 min
Cook Time: –
Total: 20 min
Serving: Serves 6
This dish epitomizes the fresh tastes of summer. Make sure to use good quality honey which you can find at a farmers market; it is far superior in taste to the store-bought generic kind.
Ingredients
1/4 cup honey
1/4 cup white Balsamic Vinegar
1/2 teaspoon freshly ground black pepper
Salt to taste
1/3 cup olive oil
12 slices prosciutto
1 bag or 1 bunch fresh, rinsed and dried Arugula, roughly chopped
12 fresh figs
1/3 cup crumbled goat cheese
3 tablespoons shelled sunflower seeds, lightly toasted
Directions
Put honey into a microwave safe bowl for a few seconds to warm and temporarily thin consistency. Remove, add the vinegar, pepper and a sprinkle of salt and whisk vigorously while slowly pouring in the oil.
Starting at the end with the stem, cut the fig with a sharp knife into quarters. Set aside.
Arrange 2 prosciutto slices, flat, onto six plates. Divide the arugula evenly between the plates and then place 8 fig quarters over the greens.
Crumble goat cheese over the salads and then sprinkle with the sunflower seeds. Drizzle with the honey vinaigrette and sprinkle with salt.