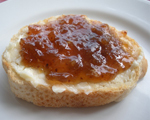 Prep: 10 min
Cook Time: 33 min
Total: 43 min
Serving: Makes about 5 pints
With midsummer comes fig season and access to a fruit that makes seriously sweet delights as well as a wonderful companion to savory and tart foods. Enjoy this jam spread on crackers with creamy French fromage blanc goat cheese.
Ingredients
5 pounds fresh figs, chopped
6 cups of sugar
3/4 cup of water
1/2 cup lemon juice
Directions
Cover the figs in a large saucepan of boiling water and bring to a boil. Turn off heat and let the figs soak in the water for 10 minutes. Drain and stem the figs and then chop into pieces.
Place the figs back in the saucepan and add the sugar and 1/4 cup of water. Bring the mixture to a boil, stirring frequently, to completely dissolve sugar and to preventing sticking. Cook until mixture thickens.
Put in the lemon juice and continue to boil for 2 more minutes.
Pour the mixture into jars leaving about 1/4-inch from the top of the jar, and cap.
Place the jam in a bath of boiling water to process for 15 minutes. Remove and set aside to cool.