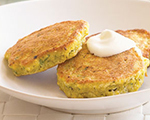 Prep: 10 min
Cook Time: 20 min
Total: 30 min
Serving: 6 Servings
These corn cakes, made with fresh corn, are tasty appetizers that can be served hot with homemade salsa and sour cream.
Ingredients
1 fresh ear of corn
2 tablespoons all-purpose flour
1-1/2 teaspoons baking powder
1 teaspoon sugar
1/2 teaspoon salt
1 cup boiling water
1 cup yellow cornmeal
1/4 cup milk
1 slightly beaten egg
1 tablespoon snipped fresh chives
3 tablespoons cooking oil
Directions
Remove the corn kernels from the cob and place into a small bowl.
In another bowl, mix the flour, baking powder, sugar and salt until combined.
In a third bowl, mix together the boiling water with the cornmeal, and then stir in the milk, fresh corn and the chives. Mix well to blend.
Add the flour mixture to the cornmeal mixture and stir just until combined.
Place 2 tablespoons of the oil into a large frying pan over medium heat, and then drop tablespoons of the batter into the hot oil.
Cook each corn cake for 3-1/2 to 4 minutes, turning once, and then place on a platter and cover to keep warm.
Continue with the remaining batter, using the additional 1 tablespoon of oil when needed.