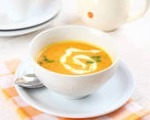 Prep: 15 min
Cook Time: 50 min
Total: 1 hr 5 min
Serving: Serves 6 people
The cilantro in Fresh Carrot & Cilantro Soup adds a springtime flavor to this tasty soup.
Ingredients
3 tablespoons olive oil
1 red onion, chopped
1 large potato, chopped
1 celery stalk, chopped
2-3/4 cups chopped carrots
4 cups vegetable stock
1 tablespoon butter
2 tablespoons coriander seeds, crushed
1-1/2 tablespoon chopped fresh cilantro, plus extra for garnish
1 cup milk
Salt & pepper to taste
Directions
In a large saute pan over low heat, add the oil. Add the onion and cook, stirring occasionally, for about 5 minutes or until soft.
Add the potato and celery and cook, stirring occasionally, for about 5 minutes. Add the carrots and cook another 5 minutes, stirring. Cover the pan and reduce the heat to very low. Cook for about 10 minutes, stirring occasionally.
Add the vegetable stock and bring to a boil. Cover and simmer for 10 minutes, or until the vegetables are tender.
Meanwhile, melt the butter in a skillet. Add the coriander seeds and cook, stirring constantly, for about a minute. Add the chopped cilantro and cook, stirring constantly for a minute. Remove from the heat.
Remove the soup from the heat and allow to cool slightly. Transfer to a food processor or blender, working in batches, and process to a puree. Return the soup to the (clean) pan. Add the cilantro mixture, milk and season to taste with the salt & pepper.
Reheat without cooking too much and serve, garnished with chopped cilantro.