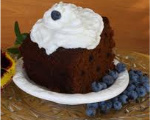 Prep: 10 min
Cook Time: 40 min
Total: 50 min
Serving:
A fruity addition to a holiday favorite.
Ingredients
1 1/2 cups fresh blueberries
2 cups all purpose flour
1 teaspoon baking soda
1 1/4 teaspooons ground ginger
1 teaspoon gound cinnamon
1/4 teaspoon ground mace
1/4 teaspoon salt
1/2 cup vegetable oil
1 cup sugar
1 egg
4 tablespoons dark molasses
1 cup buttermilk
Directions
Preheat oven to 350 degrees Fahrenheit. Grease and flour a 9 inch pan.
Wash and dry the blueberries. Toss with 2 tablespoons of flour.
Stir together the remaining flour, soda, ginger, cinnamon, mace and salt.
In a large bowl beat the egg, oil, sugar and molasses until well mixed.
Alternately add the flour and buttermilk to the creamed mixture. Beat until smooth. Fold in the blueberries.
Pour into the prepared pan and bake for 35-40 minutes. Serve with whipped cream.