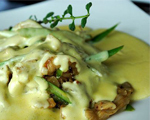 Prep: 5 min
Cook Time: 30 min
Total: 35 min
Serving: 4 Servings
A great way to use fresh asparagus while in season; use shitake or wild mushrooms to compliment this delicious side dish.
Ingredients
3 tablespoons butter or olive oil
1 pound shiitake (or wild) mushrooms, caps only, rinsed if necessary, chopped into large pieces
1/4 cup minced shallot or onion
Salt and pepper, to taste
1 cup heavy cream
1 to 1 1/2 pounds fat asparagus, trimmed and peeled
Directions
Place 2 tablespoons of butter into a large sauté pan and set over medium-high heat.
Once the butter has melted, add the mushrooms, shallots, salt and pepper and stir to combine. Sauté the mixture for 10 minutes and then add the cream and bring to a boil.
Boil the mixture for 10 minutes, stirring frequently to prevent sticking.
In the meantime, steam the asparagus in a steamer according to manufacturer's directions or in a steam basket over boiling water for 5 minutes.
Place the asparagus on a platter and pour over the mushroom sauce. Serve immediately.