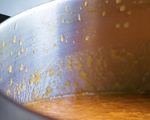 Prep: 5 min
Cook Time: 3 min
Total: 8 min
Serving: 4 Servings
If you are looking for a sweet and somewhat spicy sauce for your grilled meats and seafood, try this recipe made with fresh peaches, garlic and Sriracha sauce.
Ingredients
2 medium peaches, coarsely chopped
1 medium lime, juiced (2 Tbsp.)
1/2 cup reduced-sodium soy sauce
1 tablespoon Sriracha sauce
2 cloves garlic, crushed
2 pinches each salt and freshly ground black pepper
Directions
Use a food processor or blender to process all of the ingredients together, except for the honey, until smooth yet still somewhat chunky.
Transfer the peach mixture to a small saucepan, add the honey and bring the mixture to a simmer over medium heat. Cook the mixture for 3 minutes and then serve.