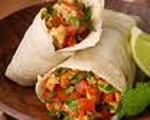 Prep: –
Cook Time: 10 min
Total: 10 min
Serving: Makes 1 burrito
Dinner doesn't have to be fussy, but sometimes it's hard to think up even the simplest ideas when you need to make dinner in a snap.
This recipe calls for five simple ingredients, all of which will store well in your fridge for up to a week, which makes these easy, fresh chicken burritos an ideal recipe to make on those unexpectedly busy evenings.
This recipe makes one burrito, so be sure to double or triple the ingredients, depending on how many people you'll be feeding for dinner.
Ingredients
1 large tortilla
1/2 cup precooked chicken, diced
2 tablespons yellow bell pepper, diced
4 to 6 cherry tomatoes, diced
Fresh basil or cilantro, chopped
Salt and pepper, to taste
Directions
Heat the chicken until warm. Sprinkle chicken, peppers, tomatoes, and cilantro inside the center of the tortilla.
Salt and pepper the chicken and vegetables lightly. Wrap the tortilla, burrito-style, around the fillings. Serve immediately.
Garnish, if desired, with sour cream, grated cheddar cheese, or salsa.