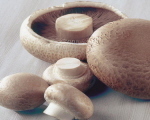 Prep: 10 min
Cook Time: 7 min
Total: 17 min
Serving: 4 servings
Only the French could come up with a recipe for buttery garlicy French Style Mushrooms. Serve with any meat.
Ingredients
20 mushrooms sliced thickly
2 tablespoons olive oil
3 tablespoons butter
4 scallions finely chopped
2 cloves garlic (minced)
3 teaspoons lemon juice
1/4 teaspoons salt
1/4 teaspoon ground pepper
two tablespoons parsley (finely chopped)
Directions
Cook mushrooms in oil over medium-high heat until mushrooms give off moisture
Uncover and cook until moisture is almost completely reduced
Add butter, scallions, garlic and lemon juice
After 30 seconds sprinkle on salt, pepper and parsley
Voila!