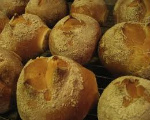 Prep: 1 hr 20 min
Cook Time: 12 min
Total: 1 hr 32 min
Serving: a dozen rolls
Dinner rolls with butter glaze
Ingredients
2 cups warm water (110 degrees Fahrenheit)
3 tablespoons yeast
1 tablespoon salt
2 tablespoons sugar
1/4 cup cooking oil
6 1/2-7 cups flour
2 egg whites
For Glaze:
1 egg white
1 tablespoon water
1 tablespoon melted butter
Directions
Dissolve the yeast in the water. Add in the sugar, oil, salt and 2 cups of flour. Beat well. Add egg white, beat until smooth.
Add the remaining flour and knead for 10 minutes.
Place the dough in a greased bowl and cover with a wet cloth. Set in a warm place and allow to rise for 10 minutes, punch down, repeat for the next hour.
Shape into rolls and allow to rise until doubled. Apply the glaze. Sprinkle with poppy or caraway seeds if desired.
Place a pan of water in the oven under the tray of rolls. Bake for 10-12 minutes at 450 degrees Fahrenheit.