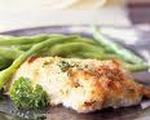 Prep: 25 min
Cook Time: 40 min
Total: 1 hr 5 min
Serving: 6
New Orleans inspired French Quarter Fish Creole combines seafood and vegetables in a peppery sauce.
Ingredients
2 tablespoons butter
water
salt
1 1/2 cups regular long grain rice
1, 16 ounce package frozen flounder, cod or haddock fillets
2 tablespoon vegetable oil
2 onions, diced
2 celery stalks, diced
1 large green pepper, cut into 1/2 inch strips
1 garlic clove, crushed
1, 28 ounce can tomatoes
1 1/2 teaspoons sugar
1/2 teaspoon hot pepper sauce
1, 10 ounce package frozen peas
Directions
In 2 quart saucepan over high heat, heat butter, 3 cups water and 1 teaspoon salt to boiling; stir in rice; heat to boiling. Reduce heat to low; cover and simmer 20 minutes or until rice is tender and all liquid is absorbed. Fluff rice with fork; keep warm.
Meanwhile let frozen fish stand at room temperature 15 minutes to thaw slightly. In 4 quart saucepan over medium heat, in hot oil, cook onions, celery, green pepper and garlic until tender, stirring often.
Cut fish into 1 inch chunks. Add to vegetable mixture in saucepan with tomatoes and their liquid, sugar, hot pepper sauce, frozen peas and 1 teaspoon salt; over high heat, heat to boiling. Reduce heat to low; cover and simmer 10 minutes or until fish flakes easily when tested with a fork and peas are tender. Serve with rice.