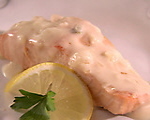 Prep: 10 min
Cook Time: 25 min
Total: 35 min
Serving: 6 servings
French Poached Salmon becomes magnificent with a creamy, earthy truffle sauce.
Ingredients
1 1/2 cups dry white wine
1/2 cup shallots (chopped)
3/4 ounce black truffles (finely chopped)
1 1/3 cups heavy cream
1/2 teaspoon salt
1/8 teaspoon black pepper
2 tablespoons brandy
1 teaspoon arrowrooot
2 cups dry white wine
1/4 teaspoon salt
1/4 teaspoon dried dill
1 1/2 lb salmon filet
Directions
Cut Salmon into 6 portions
Place in large skillet with with 2 cups of wine, salt and dill
Simmer for about 10 minutes or until done
Prepare sauce by reducing wine and shallots for 12-15 minutes
Stir in truffles, cream, salt and pepper and simmer for 5 minutes.
Mix arrowroot, and brandy in a small bowl until lumps disappear.
Whisk arrowroot mixture into cream sauce and stir until it has thickened.
Remove salmon from poaching liquid and pour cream sauce on top to serve.