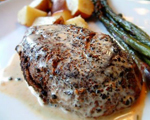 Prep: 20 min
Cook Time: 7 min
Total: 27 min
Serving: 2 Servings
Steak 'au Poivre' translates into 'pepper steak' in French, and is a dish that consists of a cut of steak, coated in cracked peppercorns and then seared.
Ingredients
2 tenderloin steaks
6 tablespoons whole peppercorns
2 tablespoons butter
2 tablespoons flour
2/3 cup beef bouillon cube dissolved in water
5 ounces brandy
1 teaspoon kitchen bouquet
1/2 tablespoons Dijon mustard
1/2 teaspoon Worcestershire sauce
1 tablespoon olive oil
Directions
Put the peppercorns into a spice grinder, and pulse until roughly chopped. Do not over process.
Sprinkle 1 tablespoon of the peppercorns onto a plate and coat one side of the meat. Add another tablespoon of ground peppercorns to the plate and coat the other side of the steak. Do this for each steak.
In a medium-sized frying pan, heat the oil over high heat until hot but not smoking. Fry the steaks for 2 minutes on each side and then set aside and keep warm.
Add the butter to the frying pan and melt over medium heat. Sprinkle in the flour and cook for 1 minute. Slowly pour in the beef stock and brandy while whisking continuously. Add the kitchen bouquet, Dijon, and Worcestershire sauce and cook for 2 minutes. Pour over the hot steaks and serve.