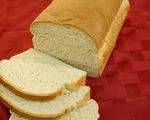 Prep: 2 hr
Cook Time: 45 min
Total: 2 hr 45 min
Serving: 15
Make sure to say, "Voila!" when serving homemade French Bread.
Ingredients
2 packages or cakes of yeast
4 tablespoons sugar
2 egg whites
5 pounds flour
2 tablespoons salt
oil
Directions
Mix sugar, salt, 5 cups water and yeast. Stir until dissolved. Add 4 or 5 cups flour. Stir until dissolved. Add approximately 12 cups flour. Knead approximately 10 minutes. Raise until doubled.
Punch down and knead 3 to 4 times. Divide into 8 pieces and shape into loaves.
Place in well greased loaf pans and slash the top. Brush with egg white. Let raise for 1- 1 1/2 hours. Bake at 450 degrees F for 15 minutes then at 350 degrees F for 30 minutes.
Reverse loaf pans on shelf every 15 minutes to insure even browning. Remove from pans and let cool completely. Wrap in foil to freeze. To serve, warm in foil 20 minutes at 350 degrees F.