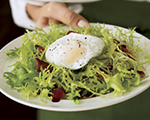 Prep: 10 min
Cook Time: 17 min
Total: 27 min
Serving: 4 Servings
A classic French bistro salad made with endive lettuce, bacon and shallots, all topped with a perfectly poached egg. C'est magnifique!
Ingredients
3 tablespoons extra-virgin olive oil, divided
8 ounces bacon, cut into 1/2-inch dice (1-3/4 cups)
2 medium heads frisee or curly-leaf endive lettuce, torn (8 cups)
1 large shallot, minced
3 tablespoons white-wine vinegar
1 teaspoon Dijon mustard
1/4 teaspoon salt
1/4 teaspoon freshly ground pepper
4 large eggs
Directions
Place the lettuce in a large bowl.
Cook the bacon in 1 tablespoon of olive oil in a medium-sized skillet over medium-high heat until crispy, about 8 minutes, and then transfer to the large bowl with the lettuce.
Add the shallot to the pan and sauté for 3 minutes, and then remove pan from heat and mix in the remaining 2 tablespoons oil, vinegar, mustard, salt and pepper. Stir well to combine and then pour mixture over salad. Toss to coat and then evenly divide salad between 4 plates.
Place 1-inch of water in another medium-sized sauté pan and bring to a boil over high heat. Carefully crack each egg into the boiling water, so as not to break the yolks.
Cover the pan and reduce heat to low. Simmer the eggs for about 5 minutes, or until yolks are just set, and then place a poached egg on each salad plate. Sprinkle the egg with a pinch of salt and pepper and serve immediately.