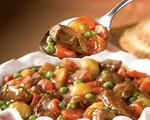 Prep: 25 min
Cook Time: 1 hr 20 min
Total: 1 hr 45 min
Serving: 8
Everyone will say, "Oui!" to a bowl of French Beef Stew Deluxe.
Ingredients
3 bacon slices, cut into pieces
2 pounds round steak, cut in 1 1/2 inch chunks
1 cup dry red wine
1 beef bouillon cube
2 garlic cloves, chopped
1 tablespoon instant minced onions
2 teaspoons salt
1/4 teaspoon dry thyme leaves
1 strip orange peel
18 small white onions
3/4 pound small mushrooms
2 tablespoons cornstarch
1, 10 ounce package frozen peas
1/2 cup pitted ripe olives, drained
Directions
In large Dutch oven over medium-high heat, fry bacon until crisp; push bacon bits to side of pan. Add meat to pan and brown. Stir in 1 cup water, wine, bouillon cube, garlic, minced onion, salt, thyme and orange peel. Reduce heat to low; cover and simmer one hour or until meat is tender.
In covered medium saucepan over high heat, in about 1 inch salted water, cook onions 10 minutes; add mushrooms and continue cooking 5 more minutes; drain.
In small bowl, mix cornstarch and 2 tablespoons water; stir into stew; heat to boiling, stirring constantly until thickened. Add onions, mushrooms, peas and olives; cover and cook 10 minutes or until peas are tender.