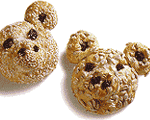 Prep: 15 min
Cook Time: 10 min
Total: 25 min
Serving: 6 servings
Cute teddy bear face biscuit snacks.
Ingredients
Vegetable spray
1 (10 ounce) package refrigerated biscuits
1/4 cup sesame or sunflower seeds
36 raisins
Directions
Preheat the oven to 400 degrees Fahrenheit. Coat a baking sheet with the vegetable spray.
Separate the biscuits. Cut three of them into sixths for the ears and noses.
Roll the whole pieces into balls and roll in the seeds. Set on the sheet and flatten just a bit. Roll three of the cut pieces int balls to form the ears and nose. Use 2 raisins in the ears, 2 for the nose and 2 for eyes. Repeat for all the biscuits.
Bake for 8-10 minutes, or until golden brown.