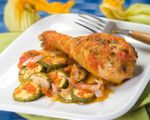 Prep: 25 min
Cook Time: 6 hr
Total: 6 hr 25 min
Serving: 6
Peeling 40 cloves of garlic can be a daunting task. If you separate the cloves from the head and drop them into boiling water for 30 seconds; drain; wait until the garlic is cool to the touch, you can slip the peels off with your fingers. Brought to you from the 50+ Friends Club Cookbook.
Ingredients
1 frying chicken (3 lb.) cut into serving pieces
1 to 2 tbsp. olive oil
1/4 cup dry white wine
1/8 cup dry vermouth
2 tbsp. chopped fresh parsley or 2 tsp. dried parsley leaves
2 tsp. dried basil leaves
1 tsp. dried oregano leaves
Pinch crushed red pepper flakes
40 cloves garlic (about 2 heads), peeled
4 ribs celery, sliced
Juice and peel of 1 lemon
Fresh herbs (optional)
Directions
Remove skin from chicken, if desired.
Sprinkle with salt and pepper.
Heat oil in large skillet over medium heat.
Add chicken; cook 10 minutes or until browned on all sides.
Remove to platter.
Combine wine, vermouth, parsley, basil, oregano and red pepper flakes in large bowl.
Add garlic and celery; coat well.
Transfer garlic and celery to crock pot with slotted spoon.
Add chicken to remaining herb mixture; coat well. Place chicken on top of vegetables in crock pot. Sprinkle lemon juice and peel in crock pot; add remaining herb mixture.
Cover and cook on low 6 hours or until chicken is no longer pink in center.
Garnish with fresh herbs, if desired.