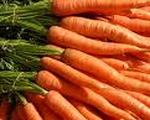 Prep: 25 min
Cook Time: 1 hr 30 min
Total: 1 hr 55 min
Serving: 8
Flourless Carrot Cake is dense with carrots and full of spicy goodness.
Ingredients
2 cups carrots, finely grated
12 large eggs
1/2 teaspoon ground cinnamon
1/2 teaspoon nutmeg
2 cups sugar
3/4 cup ground almonds
Directions
Separate eggs one by one. Put the yolks in one dish. Put the whites in another. Remove as much liquid as you can from the carrots by squeezing them in a cheesecloth.
Beat the egg yolks and the sugar until they are creamy. Add the carrots, almonds and spices.
In a separate bowl, beat the egg whites until they form tall glistening peaks. Gently fold the egg whites into the carrot mixture. Do not overmix. Gently pour the mixture into a greased oblong baking dish. Bake at 275 degrees F for about 1 hour 30 minutes.