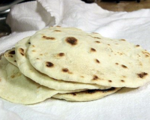 Prep: 8 min
Cook Time: 6 min
Total: 14 min
Serving: 6
A natural for a Mexican-inspired meal, these tortillas are made with vegetable shortening instead of the typical lard and given a flavorful kick with chili powder. Of course you can purchase a package of tortillas at the market, but making them fresh presses more love into your meal.
Ingredients
½ cup whole wheat flour
½ cup all-purpose flour
¼ teaspoon baking powder
¼ teaspoon salt
1 teaspoon chili powder (optional)
2 tablespoons vegetable shortening, cut into pieces
6 to 7 tablespoons warm water
Directions
In a medium sized bowl combine the dry ingredients.
Blend the shortening into the dry ingredients until it resembles a fine meal.
Add water, a tablespoon at a time, and toss with your fingers until liquid is incorporated and forms a soft dough.
Roll dough into a ball and knead on a lightly floured surface until dough is smooth and elastic.
Divide into 6 even portions and roll into smaller balls.
Cover with a damp (not moist) towel and let stand for at least 30 minutes.
Place a portion of dough between two pieces of plastic wrap and roll out with a rolling pin or flatten with a tortilla press.
Repeat with remaining portions, setting flattened tortillas aside under a damp towel.
Preheat griddle or cast-iron skillet on high heat. Cook each tortilla for 30 to 60 seconds or until golden.
Flip and cook for another minute or until golden. Remove and stack on a plate covered with a towel to keep warm until ready to serve.
Tortillas are best served warm and right away.