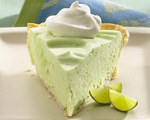 Prep: 8 hr
Cook Time: 25 min
Total: 8 hr 25 min
Serving: Makes 1, 9-inch pie
In order to make this pie a real success, use fresh lime juice instead of the bottled variety; the difference in taste will wow your taste buds!
Ingredients
1-1/4 cups graham cracker crumbs from 9 (2-1/4-inch by 4-3/4-inch) crackers
2 tablespoons sugar
5 tablespoons unsalted butter, melted
1 (14-ounce) can sweetened condensed milk
4 large egg yolks
1/2 cup plus 2 tablespoons fresh or bottled Key lime juice
3/4 cup chilled heavy cream
Pinch of vanilla
1 teaspoon sugar
Directions
Preheat the oven to 350 degrees.
In a food processor, mix the graham cracker crumbs, sugar and butter until well combined. Pack the crumbly mixture into the bottom and up the sides of a 9-inch oven safe pie plate.
Bake the crust for 10 minutes and then set aside to cool. Leave oven on at 350 degrees.
In a large bowl, mix the condensed milk and the yolks with a wire whisk. Slowly add the juice and continue whisking until mixture thickens slightly.
Pour the filling into the prepared graham cracker crust and place in oven. Bake pie for 15 minutes and then immediately remove and cool to allow filling to set. Cover and place in refrigerator to chill for at least 8 hours.
Just before serving the pie, add the cream to a large bowl with the vanilla and 1 teaspoon of sugar, and beat with a handheld mixer until it forms stiff peaks. Dollop on top of pie and serve.