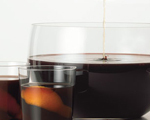 Prep: 15 min
Cook Time: 8 min
Total: 23 min
Serving: Makes 18 to 20 Servings
Otherwise known as Gluhwein, Glogg mulled wine is red wine that has been heated and mixed with sugar and spices.
Ingredients
1-1/4 cups water
1-1/4 cups (packed) dark brown sugar
2 cinnamon sticks, broken in half
4 whole cloves
1 4-inch-long strip orange peel
2 750-ml bottles dry red wine
1 cup fresh orange juice
1/2 cup fresh lemon juice
4 cups brandy
1 whole nutmeg
Directions
Place the water, sugar, cinnamon sticks, cloves and orange peel in a large pot and bring to a boil, stirring frequently.
Pour in the wine and heat until the mixture is heated through.
Transfer the mixture to a punch bowl and add the orange juice and the lemon juice.
Fill a ladle with brandy and hold over the punch bowl. Carefully ignite the brandy in the ladle and allow the flame to burn out.
Add the remaining brandy and stir to combine.
Garnish the punch with some nutmeg and serve.