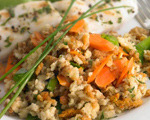 Prep: 10 min
Cook Time: 20 min
Total: 30 min
Serving: 6 Servings
This recipe for Fish Stuffing Bake combines white fish filets with herb seasoned stuffing to form a flavorful main dish the entire family will enjoy.
Ingredients
1 cup water
1/4 cup (1/2 stick) butter
2 medium carrot, sliced (about 1 cup)
1 small green pepper, chopped (about 1/2 cup)
4 cup herb seasoned stuffing
6 fresh or thawed frozen firm white fish fillet (cod, haddock or halibut) (about 1-1/2 pounds)
1 tablespoon lemon juice
1 tablespoon chopped fresh parsley
1 teaspoon dried parsley flakes
Directions
Place the water, 2 tablespoons of butter, the carrots and the green pepper into a large saucepan over medium-high heat, and bring the mixture to a boil. Once boiling, take the pan off the heat and stir in the stuffing.
Preheat your oven to 400 degrees.
Arrange the fish along the sides of a baking dish and then transfer the stuffing to the middle of the dish.
Melt the remaining butter in a bowl in the microwave, and then add the lemon juice and the parsley. Stir the mixture well to combine and then drizzle over the fish fillets.
Place the pan in the oven and bake the fish and stuffing for 15 minutes. Serve immediately.