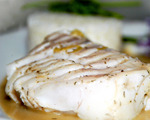 Prep: 5 min
Cook Time: 15 min
Total: 20 min
Serving: 4 Servings
You can use any fish steak you prefer for this elegant dinner dish including: salmon, cod, halibut and sturgeon.
Ingredients
2 cups dry white wine
2 cups water
2 tablespoons sherry vinegar
1 teaspoon salt
10 whole peppercorns
10 coriander seeds
2 whole cloves
1 bay leaf
1 garlic clove
4 sprigs of parsley, thyme and tarragon
1-1/2 pounds fish steaks, rinsed
mayonnaise to garnish
Directions
Place the wine, water, vinegar, salt, peppercorn, coriander, close, bay leaf, garlic and herb sprigs into a deep sauté pan and bring to a boil. Reduce the heat and simmer the mixture for 5 minutes.
Add the fish to the pan (do not overlap) and then cover the pan and simmer for 10 minutes over medium-low heat.
Remove the fish from the pan and transfer to a serving plate. Dollop the poached fish with some mayonnaise and then serve immediately.