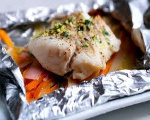 Prep: 40 min
Cook Time: 45 min
Total: 1 hr 25 min
Serving: 4 servings
Fish fillets with tomatoes and green pepper baked in foil.
Ingredients
1 (16 ounce) package frozen block fish fillets
1 tablespoon lemon juice
1/2 teaspoon onion salt
1 cup chopped green pepper
1 cup chopped tomato
2 tablespoons butter
Directions
Thaw the fish for 30 minutes. Preheat the oven to 450 degrees Fahrenheit.
Slice the fish into 4 pieces and place each piece in the center of a 12-inch square aluminum foil sheet.
Top each fish with the lemon juice and onion salt. Surround with the green pepper and tomatoes. Top each fish piece with a slice of butter.
Seal the foil around the fish and vegetables. Bake for 45 minutes.