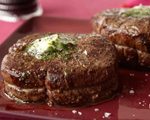 Prep: 15 min
Cook Time: 11 min
Total: 26 min
Serving: 2 Servings
Top hot and tender pieces of filet mignon with a generous pat of creamy caraway and cilantro seasoned butter. Serve with a bottle of American Merlot. The perfect dinner for two.
Ingredients
3 tablespoons unsalted butter, at room temperature
2 tablespoons finely chopped cilantro
1/2 teaspoon caraway seed
1/2 teaspoon fresh lemon juice
1 teaspoon sea salt
1/2 teaspoon freshly ground black pepper
1 tablespoon extra-virgin olive oil
2 (6 ounce) filet mignon, tied (about -1/2-inches-thick)
Directions
Put the butter, cilantro, caraway, lemon juice, 1/2 teaspoon sea salt and 1/4 teaspoon pepper into a bowl and stir to blend.
Place the butter mixture onto a piece of wax paper and roll in a cylinder shape. Place the butter into the refrigerator to firm.
Put the oil in a medium-sized sauté pan or skillet over medium heat. When the oil is hot it will start to shimmer.
Season the steaks with the remaining sea salt and freshly ground pepper, and add them to the pan. Sear the steaks for about 11 minutes, turning twice, for medium-rare doneness.
Remove the strings from the steaks and place on 2 serving plates. Top with a pat of the prepared butter and serve immediately.