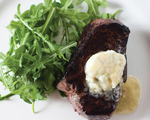 Prep: 45 min
Cook Time: 13 min
Total: 58 min
Serving:
Simple, elegant, delicious. An ideal meal for high-end entertaining, serve with a bottle of Mirassou Pinot Noir or a Pomerol.
Ingredients
4 (4-ounce) filet mignon, 2 inches thick
2 tablespoons extra virgin olive oil
Sea salt and freshly cracked pepper
1⁄4 cup unsalted butter, softened
1⁄4 cup crumbled Danish blue cheese
1 teaspoon minced shallot
Directions
Place the butter, blue cheese, shallot and 2 pinches of sea salt into a bowl and stir until thoroughly blended.
Cover and put the butter mixture into the refrigerator to chill until firm.
Prepare the grill on high heat after lightly brushing the grill rack with oil.
Rub each tenderloin filet with olive oil and generously sprinkle with both salt and pepper.
Place the meat on the grill and sear on both sides, then reduce the grill's heat to medium-low, close the lid and cook for about 13 minutes for medium-rare doneness.
Remove the meat from the grill, cover and let stand for 5 minutes before serving with a large pat of the blue cheese butter.